Summary Judgment Dismissal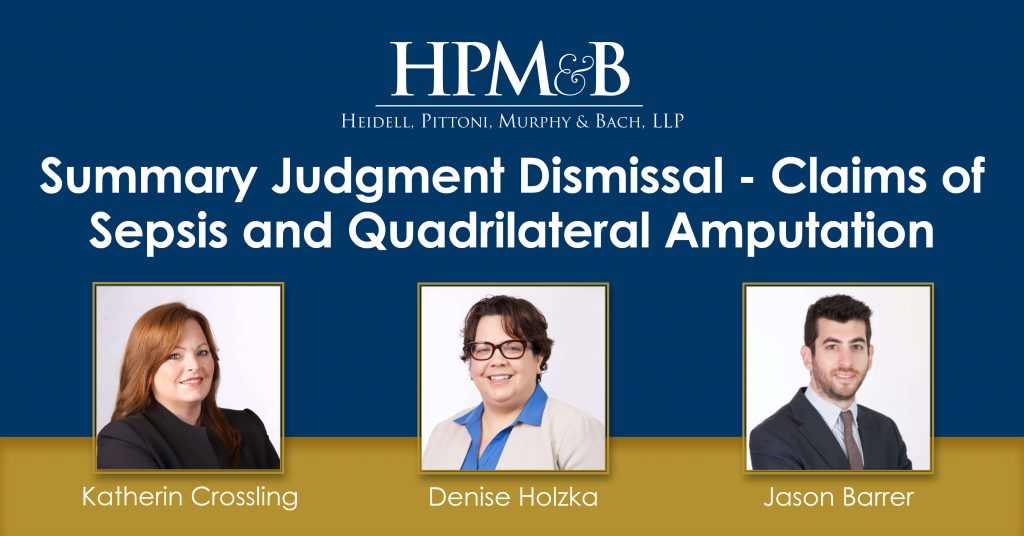 Congratulations to Partners Denise Holzka and Katherin Crossling and Of Counsel Jason Barrer on obtaining a full dismissal of all claims against their clients via summary judgment in a quadrilateral amputation medical malpractice action venued in New York County.  The team aggressively defended two urologists and a large New York tertiary care hospital in this case where plaintiff developed urosepsis, septic shock, cardiovascular collapse and ultimately required amputation of all four of his limbs.

The team argued via papers supported by an expert urologist that there was no basis to admit plaintiff to the hospital when he initially presented for treatment of a large obstructing kidney stone and irritating ureteral stent. Arrangements were made for him to be seen as an outpatient in the clinic for follow up. In the clinic, a care plan was put in place by defendants. Despite all efforts to ensure that plaintiff understood and was in compliance with the plan, after several appointments, he failed to follow up as directed. The team also argued that plaintiff's severe sepsis and associated amputations occurred weeks later and were not causally related to their care or purported lack thereof.

Plaintiff vigorously opposed defendants' motion and supported his opposition with a detailed affirmation from an expert urologist and a supplemental affidavit submitted on his own behalf denying that defendants had explained the care plan and disputing defendants' overall position. The motion practice culminated with oral argument before the Court that lasted over an hour.

Ultimately, the Court ruled in a lengthy 16 page decision that despite competing expert affirmations, plaintiff had not met his burden in response to defendants' motion and defendants were entitled to dismissal of all claims against them. This was an extremely high exposure case involving a sympathetic plaintiff with devastating injuries. The team's meticulous work up and carefully crafted and detailed motion practice resulted in a crucial win that prevented this case from being decided by a jury.