Summary Judgment Dismissal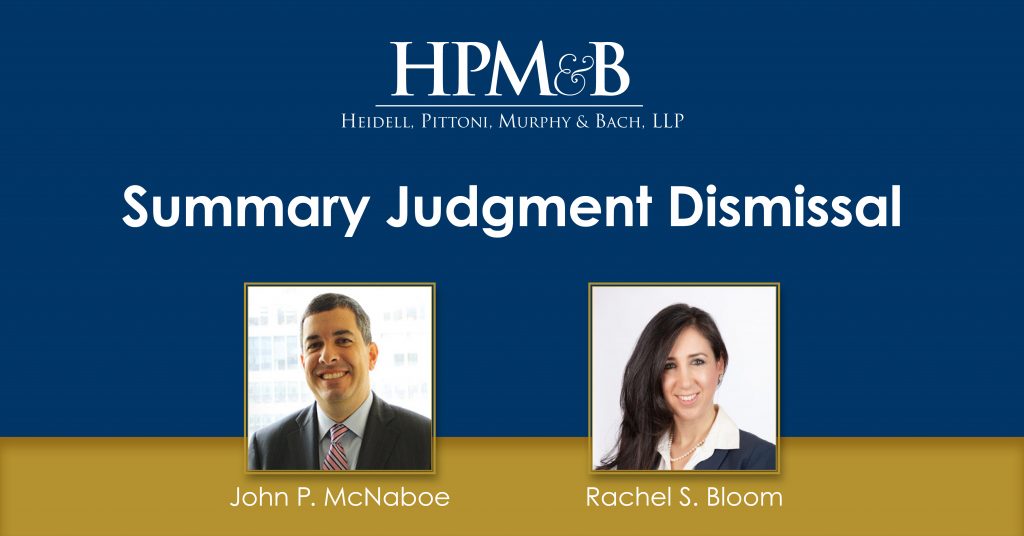 Congratulations to Partners John P. McNaboe and Rachel S. Bloom on obtaining Summary Judgment dismissal on behalf of a cardiologist and his office in a medical malpractice and wrongful death action venued in Suffolk County, New York. Plaintiff alleged the defendants rendered negligent cardiac care to the decedent over the course of several years, improperly cleared the decedent for a hernia repair surgery, and failed to order a stress test as part of the surgical clearance. Consequently, plaintiff allegedly sustained cardiac complications during the hernia repair surgery, resulting in his untimely death.
In support of their motion papers, Mr. McNaboe and Ms. Bloom submitted an expert affirmation from a cardiology expert, who opined that the cardiac care and clearance provided by the defendants was appropriate and within the standard of care. The expert opined that a stress test was not indicated because the decedent did not complain of new cardiac symptomatology and the decedent's cardiac status was optimized. Further, the expert established that there was no causal connection between the alleged negligence and the decedent's death, because, inter alia, the clearance was performed 7+ weeks before surgery and there is no evidence that the findings on a stress test would have revealed any concerning cardiac pathology and/or contraindicated surgery.
Mr. McNaboe and Ms. Bloom also successfully argued that certain claims were time-barred by the New York Statute of Limitations, because plaintiff failed to establish the continuous course of treatment exception applied.
The Court agreed with the defendants' arguments, and the case was dismissed in its entirety.