Change of Venue Ordered By New York's Highest Court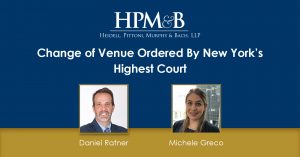 HPM&B, representing a large Westchester County medical group, successfully argued in the New York Court of Appeals that a podiatric malpractice action – arising from alleged malpractice in Westchester County in which all parties resided or principally worked in Westchester County – should be venued in Westchester County rather than Bronx County. Plaintiff placed venue in Bronx County on the ground that an individually-named podiatrist also maintained an office in Bronx County. After defendants' change of venue motion under CPLR 503(d) was granted in the trial court, the Appellate Division reversed, holding that defendants failed to carry their burden of establishing that Bronx County was an improper venue.
By a 4-3 majority, the Court of Appeals, reversing the Appellate Division, ruled that the podiatrist's "detailed affidavit averring that he spent substantially less time and cared for substantially fewer patients in the Bronx than in Westchester County supported defendants' assertion that his 'principal office' was in Westchester County—not the Bronx. To the extent plaintiff argues that an improper venue motion cannot be supported by a sworn affidavit on personal knowledge—that some other type of 'documentary evidence' is invariably required—such a rule finds no support in the statutory text and is contrary to evidentiary standards typically governing civil motion practice. The claim, credited by the Appellate Division, that the detailed affidavit should have been disregarded as 'conclusory' lacks merit."
The Court also held that the podiatrist's listing of a Bronx address in his medical license registration did not establish that his principal office was located in Bronx County. "On their face, the documents provided by plaintiff—a printout from the New York State Education Department website and a statement that [the podiatrist] was a physician in good standing— indicated only that he supplied a Bronx 'address' to licensing authorities. The Court added, "While the registration documents confirmed the undisputed fact that Dr. Goldstein also worked in the Bronx, the venue statute does not deem an individually-owned business a resident of every county where it has an office or transacts business. To conclude otherwise would read the phrase 'principal office' out of the statute."
Michele Greco represented HPM&B's client in the trial court and Daniel S. Ratner handled the appeals.