The New York Comprehensive Insurance Disclosure Act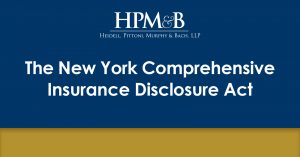 Effective December 31, 2021 and applicable to pending lawsuits, the Comprehensive Insurance Disclosure Act (S07052) is a major change in the rules governing the disclosure of insurance coverage information during litigation in New York state court.  It seeks to clarify what insurance coverage must be disclosed and how it must be disclosed, and to reduce delay in cases by explicitly compelling the disclosure of this information.  The statute refers to "actions."  It is not specific to medical malpractice or other personal injury claims.
The Act amends CPLR 3101(f).  Under the former version of the statute defendants merely could be asked to disclose the existence and contents of an insurance policy that may be called upon to satisfy a judgment. The amended CPLR 3101(f) now requires, within 60 days after serving an answer, disclosure of:
·         all primary, excess and umbrella policies or insurance contracts (including the application for insurance);
·         the contact information of a claim adjuster or third-party administrator;
·         the amounts available under the insurance policy;
·         any lawsuits that have or may reduce or erode the amounts available under the insurance policy, including contact information for the attorneys for all represented parties in such other lawsuits; and
·         the amount of payment of attorney's fees that have reduced the face value of the policy (as well as the contact information for any attorney who received such payments).
The required insurance disclosure must be sworn to in a certification by the defendant and defense counsel under a newly enacted provision (CPLR 3122-b).
Additionally, under CPLR 3101(f) the obligation to disclose insurance information is ongoing, i.e., "during the entire pendency of the litigation and for sixty days after any settlement or entry of final judgment in the case inclusive of all appeals."  Updated information must be provided within 30 days of receiving information that renders the prior disclosure or incomplete in whole or part.
The new law went into effect on December 31, 2021, but it applies to  actions that were pending before December 31, 2021.  In pre-existing cases, the disclosures must be made by March 1, 2022.  Meeting this deadline will require a review of all pending cases to determine what insurance information has been disclosed to date and to gather and disclose any now-required missing information (such as copies of policies, adjuster contact information, and other lawsuits that may erode the policies).
Finally, the law states that insurance information by reason of its disclosure is not admissible at trial.
For more information, contact Daniel S. Ratner (dratner@hpmb.com).